Talk to an API 650 Tank Expert
Above-Ground Storage Tank
Construction and Maintenance Services
Since 2007, the Heartland Tank Companies, Heartland Tank Services, Inc. and its sister company Heartland Tank, LLC, have provided complete liquid storage tank services, from erecting and maintaining aboveground steel storage tanks to tank liners and repair. We construct large field erected tanks ranging from 100,000 to 3 million gallons in capacity. Our work ethic and professionalism in delivering the highest quality products and services sets us apart from our competition.
Heartland Tank on the Road
Come meet our team of experts at any of our upcoming 2023-24 industry trade show appearances. Learn more about how our products and services can benefit you and schedule a meeting with our staff.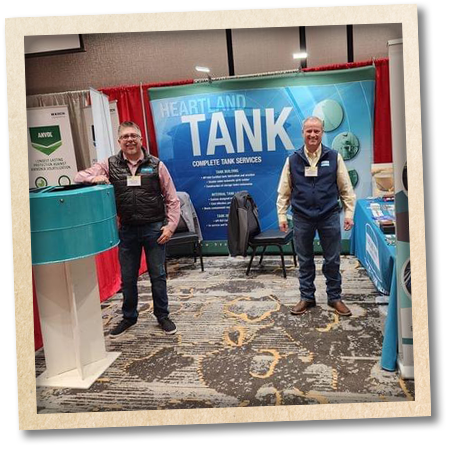 FIND US SOON AT…
Southwestern Fertilizer
MAGIE
August 23-24 | Bloomington, IL
Oklahoma Ag Expo
November 6-8 | Norman, OK
Mission Statement
Heartland Tank Services, Inc. provides knowledgeable liquid storage tank solutions, secondary containment alternatives, and comprehensive inspections through innovative leadership and exceptional service with quality, integrity, and dedication.
Heartland Tank Services will be on the road at a number of industry trade shows. Come learn firsthand about our above-ground fertilizer storage tank construction and API-653 tank inspection services. Information on our internal
Heartland Tank Services, Inc. President and CEO Chris Brooks announced his retirement from leadership effective December 31, 2022. Chris has worked for the organization and served as the President and CEO since its inception in
Most states have adopted containment regulations for liquid fertilizer operations using aboveground fertilizer tanks. Some state regulations specify a standard for new tank construction and others do not. API 650, the standard used by