The API 650 Standard was first published in 1961 by the American Petroleum Institute to create a consistent methodology by which tanks for the oil and gas industry are built.  For industries that use above ground storage tanks for fertilizer, water, chemicals, food products, etc., there is no federal law requiring the use of API 650 Standard for building storage tanks.  On the state level, some but not all states require the API Standards in building and maintaining above ground storage tanks.  This leaves some business owners with the choice of whether to build an API tank for storing liquid products at atmospheric pressure.
So why choose the API 650 Standard when building a storage tank?  Here are three reasons: the API 650 Standard is based on engineering principles to construct a safe tank; API 650 is the international standard as well as the standard adopted by states; and the API 650 Standard provides the customer with rights to ensure an above ground storage tank is correctly built to the Standard.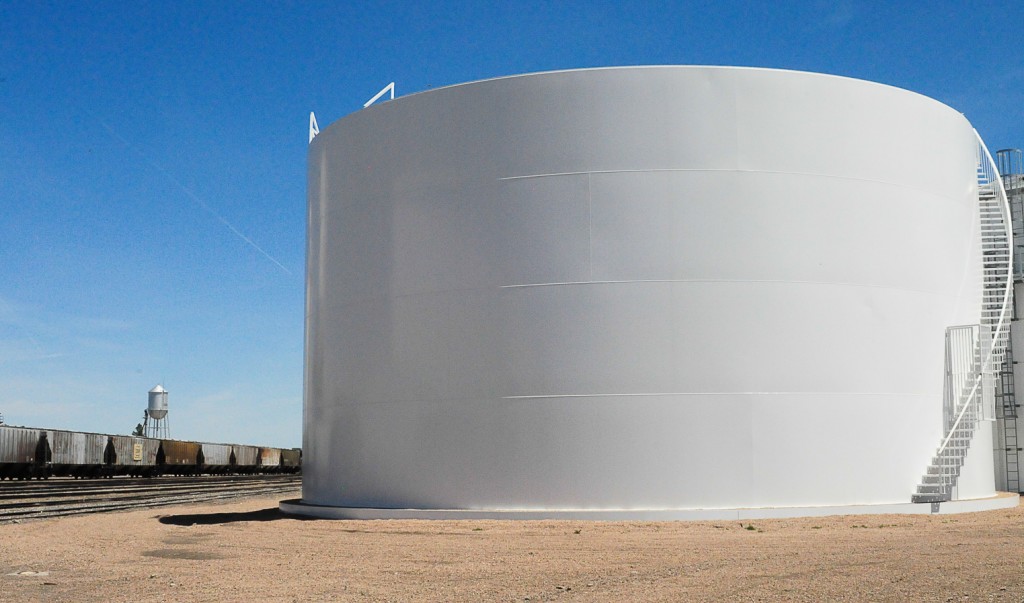 Engineered for Safety
The API 650 Standard was developed and continues to be revised by the world's best structural engineers and knowledgeable storage tank owners.  The goal of the API 650 Standard is to provide a standard that produces "tanks of adequate safety and reasonable economy."  API 650 Standard Appendix B.4.1.2.  The API 650 Standard along with its tank inspection counterpart, API 653, focus on whether an atmospheric pressure liquid storage tank is fit for service based on the ability of the storage tank to safely store a particular liquid.  There are also specific sections of API 650 that address the structural needs for tanks that may experience earthquakes, high winds, extreme temperatures, and other influences that could change the structural needs for the tank.
Building tanks that are safe and have structural integrity are important because above ground storage tanks are critical to life as we know it.  We have seen the effects of a tank leak or failure on a business and public opinion of storage tanks.  Critical to having a thriving business that uses above ground storage tanks depends on building and operating tanks with safety in mind.  Using API 650 in building a tank is a sure fire beginning step to accomplish this needed safety.
International and State Standard
While imitation is the sincerest form of flattery, increasing adoption of a building standard solidifies its integrity.  API 650 is the internationally recognized standard for constructing new storage tanks.  Furthermore, the states that have regulations on building and maintaining storage tanks have always adopted API 650 and 653.
So why should you care what is used elsewhere if you are in a state the does not have any storage tank building regulations?  With the publicity of leaks and spills from tanks such as the West Virginia Freedom Industries leak in January of 2014, more and more states are moving towards implementing tank standards.  All states that have specified a building standard have chosen API 650.  By building API tanks, you will ensure that if your state does pass regulations that you will be one step closer to compliance with an API 650 tank.
Tank Customer Rights
The American Petroleum Institute, the entity that maintains the API 650 Standard, does not certify tanks as meeting API 650 nor does it certify tank builders.  So how do you know if you truly have an above ground storage tank that is built to the API 650 Standard?  The Standard gives the API tank customer rights to ask for all documentation that demonstrates that the tank adheres to the Standard.  In fact the Standard states "[t]he purchaser may conduct any investigation necessary to make certain that the manufacturer is in compliance with this standard, and the purchaser may reject any material that does not comply with this standard."  As a tank buyer, you have the right to ask the tank builder for the steel mill certifications, radiograph reports for weld integrity, shell calculations, and a letter certifying that the tank is built to the API 650 Standard.
Offer
For more information on the API 650 Standard in building above ground storage tanks, please contact us at (303) 773-3230 or click here to request a free consultation.