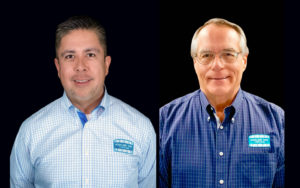 HEARTLAND TANK SERVICES, INC. PRESIDENT/C.E.O. ANNOUNCES RETIREMENT
Chris Brooks Announces Retirement after 15 Years with Heartland Tank Services, Inc.
Greenwood Village, CO, December 31, 2022 – Heartland Tank Services, Inc. President and C.E.O. Chris Brooks announced that he will retire from leadership effective December 31, 2022. He has worked for the organization and served as the President and C.E.O. since its inception in 2007. Chris is looking forward to spending time with family and pursuing personal interests. Heartland Tank Services, Inc. was formed in 2007 with the mission to provide knowledgeable liquid storage tank solutions, secondary containment alternatives, and comprehensive inspections through innovative leadership and exceptional service with quality, integrity, and dedication. Fifteen years later, the team at Heartland still supports that same goal through every division throughout the company. Though Chris formed this organization in 2007, he has been in the business since 1996. It was at that time that Chris started meeting with various State Departments of Agriculture and State Environmental Protection Agencies to seek approval for the Internal Tank Liner system to serve as primary containment. Chris was able to gain approval in 14 Midwest states and many others have since given their approval. From a one man operation to now having over two dozen employees, the company is recognized as the industry leader for all liquid storage and containment needs. Chris has paved the way for his successors, and they look forward to continuing to grow the legacy Chris worked hard to build. As Mr. Brooks steps down, he is able to assure all of the customers of Heartland Tank Services, Inc., as well as the entire Agricultural Fertilizer community that the organization is in good hands. The headquarters for Heartland Tank Services, Inc. will shift from Greenwood Village, CO to Oklahoma City, OK. Salvador Villagran, formerly the company General Manager, since 2012, will serve as President and C.E.O. Brian Hasselbring, formerly the Regional Sales Manager, will oversee all customer relationship management and serve as Chief Sales Officer. Rick Buntt, current API 653 inspector, will serve as Chief Operations Officer. They are joined on The Board of Directors by Paul Butler, Regional Sales Project Manager; Carlos Paredes, Liner Foreman; and Mario Romero, Liner Foreman, to assure that there will be no interruption in services to all of Heartland Tank Services, Inc's customers. Chris Brooks, along with the New Board, agree the company has all the right pieces in place to maintain the highest level of excellence Heartland Tank Services is known for.